Voting is a right and a responsibility. Please vote
for the person you believe is best for the country.
Voter suppression is an attack on our democracy.  Please educate yourself. It seems that some people only care about winning elections and have no interest in democracy.
We have voter registration and voter education event,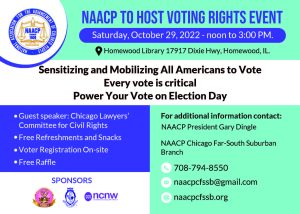 Saturday, October 29th, at the Homewood Library, 12 pm to 3 pm.
Don't miss it.  Pictures: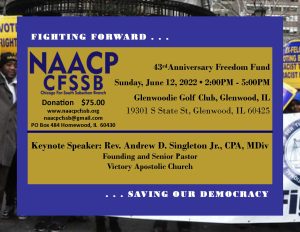 The NAACP Chicago Far-South Suburban Branch will host its 43rd Anniversary Freedom Fund Luncheon on Sunday, June 12, 2022, 2:00 p.m.–5:00 p.m. at the beautiful Glenwoodie Golf Course, 19301 S. State St., Glenwood, IL 60425. The Chicago Far-South Suburban Branch received its charter from the NAACP on May 17, 1979. Since its inception, this branch has focused on improving its community and providing scholarships to our youth. This event is our most important fundraiser of the year. Proceeds allow us to advocate for civil rights in our community and provide scholarships. The NAACP Chicago Far-South Suburban Branch needs to continue this important work, but we need your support.
This year, our special keynote speaker is the esteemed Rev. Andrew D. Singleton Jr., CPA, MDiv, Matteson, IL. Senior Pastor Singleton Jr. is the Founding/Senior Pastor of Victory Apostolic Church in Matteson, Illinois. In 23 years, God has blessed Victory to grow to more than 4,000 members with more than 70 ministries to serve the members and the surrounding communities. Pastor Singleton holds a BS degree in Accounting from the University of Illinois at Chicago and is a 2002 graduate of the Master of Divinity program at McCormick Theological Seminary in Chicago. In addition, he is a Certified Public Accountant and Certified Financial Planner.
This year's theme, "Fighting Forward: Saving Our Democracy!" is to encourage thoughtful and purposeful dialog on the existential threat to our democracy as we fight for voting rights. We want to acknowledge that although we have made great strides in civil rights, the battle is not over. We must be vigilant and have the same fervor that the Freedom Riders had during the Civil Rights Movement.
AC Williams will showcase a tribute to some of Motown's greatest music. We will also honor several outstanding community members, including Rev. Singleton and Senior Counsel Ami Gandhi of the Chicago Lawyers' Committee for Civil Rights. Our third award recipient is Destiny Watson, CEO of You Matter2, receives an award for Community Service. This year, we created a special sponsorship package to allow you to support this important cause. You can purchase tickets for $75 to support this event. Please see the attached page for ads and sponsorship information.
If you have any questions, you can reach me at 708-794-8550 or naacpcfssb@gmail.com.
Sincerely,
Don McGruder
Luncheon Committee Chair
Homewod Flossmoor Juneteenth Festival
Junne 19th at Homewood Flossmoor High School
Juneteenth is a holiday celebrated on the 19th of June to commemorate the emancipation of enslaved people in the Confederate States. The holiday was first celebrated in Texas, where on that date in 1865, in the aftermath of the Civil War, slaves were declared free under the terms of the 1862 Emancipation Proclamation. Juneteenth is also known as Freedom Day, Jubilee Day, Liberation Day, and Emancipation Day.
https://www.youmatter2.org/      https://www.youmatter2.org/newsletter.html
Juneteenth slide show June 19th 2021 HF High School
Prayer Vigil
A Day of Prayer
At Lansing Village Hall, 3141 Ridge Road, Lansing, IL 60438. Members of the community are invited to come together and pray on June 9, 2021, at 4:00 PM. As Apostle Paul admonished us to do;
"First of all, then, I urge that supplications, prayers, intercessions, and thanksgivings be made for all people, for kings and all who are in high positions, that we may lead a peaceful and quiet life, godly and dignified in every way." I Timothy 2:1-2 ESV
It is a time to pray for God's intervention in our lives, the lives of our leaders, and in our nation. The venue is the History Plaza Park – Adjacent to Village Hall at Burnham and Ridge Road and the time is 4:00 PM. Pastor Bigsby will be leading the prayer session.
We shall be prayed for:
Unity
Peace
Racial justice
End of the pandemic
For love
Youths, adults, and seniors
Village, county, state, and nation
Schools, first responders, politicians, and businesses to make the best and wisest decisions.
Safer community
Environment
We are expecting a crowd size of 20 people. We will only be on the sidewalk and will not block any doors to the Village Hall. If the number of people exceeds 20, then we will circle the building or use both sides of Burnham Ave. We will practice CDC social distancing and face mask wearing guidelines.
Attendees are encouraged to bring a sign that says what they are praying for and everyone is welcome to pray with us, including local politicians and law enforcement. For additional information contact Reverend David Bigsby at 708-878-9296, In The Upper Room Ministry and/or LCC at 708-365-9510.